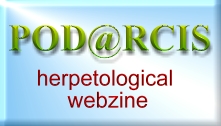 Fill out the form on the right to sign up for PAID access by issue to volume 9 and higher of the herpetological webzine POD@RCIS. Click 'Send' once y ou have filled in the data, and a confirmation e-mail will be sent to you.


Send a remittance of 5.00 Euro per issue to:


postal giro account 8490492 (IBAN: NL24 PSTB 0008 4904 92, BIC: PSTBNL21) of Foundation PODARCIS, Haarlem, The Netherlands (or in cash to Treasurer Podarcis, Klaproosstraat 3, 2012 ZA Haarlem, The Netherlands).


Upon receipt (don't forget to include your e-mail address), you will be sent a second e-mail containing your assigned Username and Password. This wi ll take a few days to process. Please remember that your Username and Password are private and confidential, and valid for a single download of one issue.




Terms and conditions:
Privacy statement: your personal data will be used only for internal purposes within the Podarcis organisation.
Texts and images do not necessarily represent the views of the Podarcis Foundation. The Foundation cannot be hold responsible for any problems or damage caused by using the site and/or the data presented therein.
Information and figures downloaded from the Podarcis site are only for the private use of the individual Podarcis registered subscriber and cannot be distributed freely to others without the written consent of the Board; copyright will remain with the Podarcis Foundation.
Your username and password are personal. Any misuse will result in the deletion of your e-mail address from our files and you will be denied furthe r access.
The Podarcis Foundation is at liberty to change its Terms and Conditions.