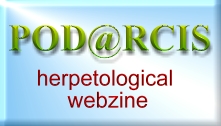 Fill out the form on the right to sign up for FREE back issues of the volumes 1-7 (2000-2007) of the herpetological webzine POD@RCIS. Click 'Send' when h aving filled in the data, and your application will be processed automatically. You will promptly receive an e-mail confirming your access to our site us ing your chosen Username and Password. This gives you immediate access to volume 1-5 of Pod@rcis, our Supply & Demand section and Forum, and you will be informed of new publications as they come out.

If you have forgotten your username or password, click here.
For access to newer issues published from 2007 onward (vol. 8-?),click here.

Terms and conditions:
Privacy statement: your personal data will be used only for internal purposes within the Podarcis organisation.
Texts and images do not necessarily represent the views of the Podarcis Foundation. The Foundation cannot be hold responsible for any problems or damag e caused by using the site and/or the data presented therein.
Information and figures downloaded from the Podarcis site are only for the private use of the individual Podarcis registered subscriber and cannot be d istributed freely to others without the written consent of the Board; copyright will remain with the Podarcis Foundation.
Your username and password are personal. Any misuse will result in the deletion of your e-mail address from our files and you will be denied further ac cess.
The Podarcis Foundation is at liberty to change its Terms and Conditions.